2006-2007 Season
Head Coach: Ken Staten
Assistant Coach: Rich Scoppetto
Assistant Coach: Mark Lawrence
Assistant Coach: Paul Bucherri
Dual Meet Record: 17 - 6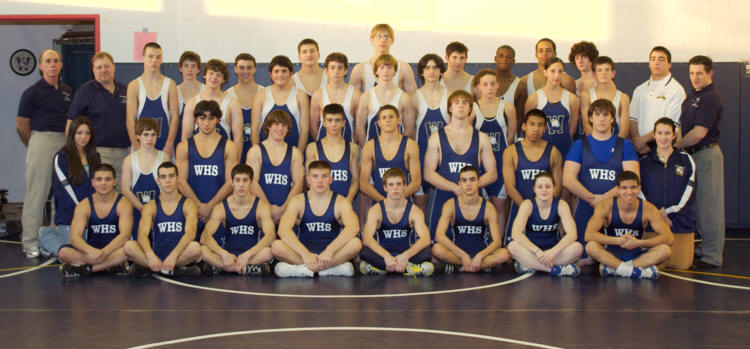 Season Ends with Annual Banquet
The High School team and Red Eagles youth wrestling team were joined by coaches, family members, and friends to conclude the 2006-2007 season. In all, approximately 125 people attended the reception, held at the Wethersfield Community Center. It was obvious that most in attendance didn't worry about "making weight" as plenty of food was being consumed at the event!
Head Coach Ken Staten presented the following awards:
Most team points earned this season - 1st Place - 229 Ken Velez (new school record)
2nd Place - 172 Kyle Mader
3rd Place - 159 Paul Mazzarella
3rd Place - 159 Diego Perez
Most Improved Wrestler - John Fields John earned 130 more team points than he did in the prior season.
Three 100% Team Awards went to: Anthony Sanzaro, Chris Wright, and Brian DeMauro
Seven All Conference Awards presented to:
Ken Velez -103 lbs
Paul Mazzarella - 112 lbs
Diego Perez - 119 lbs.
Jovanni Valentini - 125 lbs.
Rene Rivera - 130 lbs.
Kyle Mahder - 189 lbs.
Dan Hoskins - 285 lbs.
Coaches Awards: Rich Scoppetto, Paul Bucherri, Mark Lawrence
Team Leader Award: Kyle Mahder
Special Award to Ken Velez in recognition of his State Open Championship tile
Pig Award - Paul Mazzarella, ( 2nd consecutive year), for having gained the most weight since the end of the season.
Velez takes 6th place in New England's
3-3-07
Ken Velez concluded his High School wrestling career this weekend with a sixth place finish in the New England Wrestling Tournament. The weekend tournament, which was held at the New Haven Athletic Center, was host to 161 New England Schools. Each of the New England states sent their top four wrestlers in each weight class to the meet.
In the first round of the 103 lb weight class, Ken pinned Mike Sugarmeyer of Minnechaug, CT with :37 seconds remaining in the 2nd period. In his second match Ken lost by a technical fall, (17-0), to the eventual 103 lb. champion, Simon Kitzis of Newton Mass. Velez won his next two concellation round matches with a 14-13 decision over Greg Packen of North Kingston, RI; followed by a 9-5 decision over Derek Lonergan of Mt Anthony, VT. Ken lost his next match to Noah Smutnick, of Woodstock, CT with a 16-9 decision. Smutnick had built up a 12 point lead in the 2nd period but Velez had come back strong, twice putting his opponent on his back in the 3rd period, but was unable to get the pin.
In his final match of the day to determine 5th and 6th place, Ken faced West Johnson of Platt High School. Unfortunately, Ken was forced to forfeit the match due to an injury which resulted in a 6th place finish.
Ken is the third WHS wrestler to place in the New England Tournament since the wrestling program began in Wethersfield in 1965, joining James Veseskis's 4th place finish in 1988, and Steve Roslonek's 3rd place finish in 1989.
Velez Wins State Open
Ken Velez captured the State Open 1st place 103 pound title after working his way through the brackets over two days of wrestling at the New Haven Athletic Center. Competing against the Class Champions from 108 Connecticut schools, Ken faced off against the best of the best. In the first round Ken defeated Doug Fontaine of Southington winning in a 4-2 decision. Next it was Noah Smutnick of Woodstock Academy falling with a 15-8 match. Saturday morning began with a face off against the number one seed, Alex Blank of Ridgefield, Velez dominated the match with a strong 19-6 decision, catapulting him to final championship round.
In the final round Ken matched up with undefeated West Johnson of Platt, (44-0). Johnson had toyed with Velez twice during the season; winning both matches by technical fall, (15 point advantage). It appeared that Velez wasn't going to loose a third time. With the match tied at 4-4, Velez won a take-down with 14 seconds remaining in OT, claiming the title.
Although several Wethersfield Wrestlers have placed in State Tournaments over the years, Ken Velez now joins the only other WHS Wrestler to win the State Championship title, John Kennedy 1972 State Champ at 155 lbs.
Ken now advances to the New England Championship Tournament on Friday March 2nd at the New England Athletic Center. Wrestling begins at 5:00 PM.
Click here for final State Open Brackets
2-18-07
THREE PLACE IN CLASS L TOURNAMENT
1st Place - Ken Velez
5th Place - Paul Mazzarella
5th Place - Diego Perez
For the second year in a row three Wethersfield wrestlers worked their way to the championship rounds to claim their places in the state record books.
Senior Ken Velez entered the tournament as the 103 pound number one seed with a 34-4 record for the season. Ken quickly worked his way to the gold with a 15-0 decision over Julio Amaez (Rockville), followed by a 2nd period pin (3:16) against Garret Gitterman (Maloney). Ken won his semi-finals round by technical fall with a 16-1 win over Kevin Workman (Bunnell).
The evenings round of championship matches started off with Velez matched up against Bristol Central's home town favorite Ryan Carbonell. Ken proceed to rack up the back points with an fast paced 21-7 win earning the 1st Place medal.
Ken advances to the State Open Tournament next weekend at the New Haven Athletic Center. First round matches begin Friday afternoon February 23rd at 5:00pm.
Senior Paul Mazzarella, seeded 5th at 112 pounds with a 27-7 record for the season won his first round match with a 1st period (1:51) pin over Kyle Avery (Windsor). After advancing by default, Paul lost his semi-finals match in a tough 4-3 battle to Casey Leslie of Middletown, who went on to win the 112 Lb. Title. Paul lost his first wrestle back round in another close 3-2 match against Andrew Wilhelm (Johnathan Law), and finished up the night to take his second 5th place Class L medal with a 2nd period (2:22) pin over Andrew Lattimer (Wilton).
Sophomore Diego Perez, seeded 4th at 119 pounds with a 31-4 record for the season won his 1st round match by decision (11-5) against Brandan Quinn (Pomperaug), followed by a close 5-2 loss against Jordan Levasseur (Fermi). Perez advanced in the wrestle backs with a 3rd period (4:35) pin over Alexander Drew (Middletown), followed by a 5-3 win over Ryan Bisson (Berlin). Diego then suffered a 12-0 loss to Bryan Jiravisitcul (Johnathan Law). Diego earned his 5th place medal with a final round 2-0 win over Evan Bailey (Farmington).
As a team Wethersfield improved from last year's 17th place finish to 11th place.
Click the link below to obtain completed tournament brackets for all weight classes
www.casciac.org/pdfs/class_l_wrest07.pdf
2-10-07
Wethersfield Defeats Newington to Win the CCC West Title
For the first time since 1992 the Eagle Wrestlers claimed the CCC West Conference title with a solid 49-29 win over Newington. The win was a great way to end the regular dual meet season bringing the Eagles to 6-0 in conference matches and 17-6 overall. Winning by pins were Ken Velez, Paul Mazzarella and Rene Rivera. Wins by decision were Diego Perez (8-1), Jovanni Valentini (10-8), Dave Schuberth (8-5), James Queiros (14-0) and Kyle Mahder (6-4).
2-4-07
The Eagle wrestling team had a mixed day at the Bristol Central Quad meet on Saturday starting with a 45-24 loss to host team Bristol Central. WHS then went on to defeated Rockville 69 -12, followed by a 42-28 loss to Glastonbury. Ken Velez, Paul Mazzarella, Diego Perez and Rene Rivera all went 3-0 for the day.
Only two more matches, both CCC West conference bouts, remain before the season wraps up with the state tournaments. Wethersfield wrestles Weaver on Wednesday February 7th, at 6:00 PM, followed by Newington on Saturday February 10th at 11:00 AM. Both matches will be held at Wethersfield.
1-27-07
Wethersfield beats Windsor 63 - 12
Advances to 4 - 0 in Conference Ranking
WHS started off an impressive day of wrestling at the Portland Duals on Saturday morning with a decisive 63-12 win over Windsor. The CCC West conference match, originally scheduled for Wednesday the 31st, was re-scheduled by mutual consent of the Head Coaches. This leaves Wethersfield, (4 - 0), and Newington, (2 - 0), as the only remaining undefeated teams in the CCC West Conference.
The Eagles win included pins by Mazzarella, Perez, Queiros, Gonzales, Mahder, Hoskins; and wins by technical fall by Velez,Valentini, and Rivera,
Remaining conference matches are against Weaver on February 7th and Newington February 10th.
Wethersfield places 2nd at the Portland Duals
For the second year in a row, the Eagles placed 2nd at the Portland Duals. Teams participating included Bacon Academy, East Lyme, Gilbert, Lyman Hall, Nonnewaug, Portland, St. Bernard, and Windsor. Wethersfield won three of four matches throughout the day. Several 1st string varsity wrestlers took a break from the action with minor injuries, allowing for some good competition for several second string wrestlers including: Sebastian Buccheri, Patrick Fern, Jamie Harlow, Brian Lungarini, Ben Nalette, Leanna Ortiz, Anthony Sanzaro, and Chris Wright.
Match Results:
Wethersfield 63 - Windsor 12
Wethersfield 66 - Lyman Hall 16
Wethersfield 48 - St. Bernard 14
Bacon Academy 49 - Wethersfield 21
1-22-07
Wethersfield defeats Conard at Charter Oak Duals
WHS Wrestlers stunned West Hartford fans with a 38 - 34 win over Coach Chris Glowacki's Chieftains during Saturdays CCC West conference match. Wethersfield came out strong at the 285 starting weight class with a pin by Dan Hoskins, followed by an 11-8 decision by Ken Velez, Pin by Paul Mazzarella, Pin by Diego Perez, Pin by Jovanni Valentini and a Pin by Rene Rivera bringing the team score to 33 - 0. The tide shifted to the West as WHS lost the next six weight classes which brought the Chieftains to within 4 points of gaining the lead. A four point major decision (18-2) by Kyle Mahder at 189 cemented the win for Wethersfield. This is Wethersfield's first win against Conard since 1995.
This win brings Wethersfield to 3-0 in the CCC West Conference. Remaining matches with Windsor (January 31st), Weaver (February 7th), and Newington (February 10th) will determine the CCC West Champion.
The six team Charter Oak Duals ended on a bittersweet note for WHS with Farmington squeaking out a 30-28 win over the Eagle wrestlers. A Pin by Wethersfield's James Queiros (160 lbs) as the clock ran out was ruled as a 3 point near fall, earning Wethersfield 3 team points rather than 6. A video tape replay shows the timer's towel hitting the referee at the exact moment the officials hand begins to drop to the mat.
Ending Team Scores
1st Place - Farmington
2nd Place - Wethersfield
3rd Place - Conard
Round One
Wethersfield 38 Conard 34
Terryville 66 Stafford 11
Farmington 66 North West Regional 18
Round Two
Wethersfield 45 Terryville 28
Conard 78 North West Regional 6
Farmington 78 Stafford 0
Round Three
Wethersfield 63 Stafford 15
Farmington 46 Conard 32
Terryville 66 North West Regional 6
Round Four
Wethersfield 76 North West Regional 4
Conard 78 Staford 6
Farmington 48 Terryville 28
Round Five
Farmington 30 Wethersfield 28
Conard 45 Terryville 21
North West Regional 36 Stafford 30
1-13-07
WHS Wrestlers finished up two days of mat work that earned the team a 4th place finish at the Greater Hartford Invitational Tournament. Competing teams were Bristol Eastern, Conard, Cheney Tech, East Hartford, Granby, Greater Hartford Classical, Hall, Hartford Public, Manchester, New Britain, North West Catholic, Manchester, Plainville, South Windsor Southington, Weaver, Windsor
Individual awards went to the following wrestlers:
2nd Place - Diego Perez (119 lbs)
3rd Place - Ken Velez (103 lbs)
3rd Place - Paul Mazzarella (112 lbs)
3rd Place - Jovanni Valentini (125 lbs)
4th Place - Dariel Gonzales (171 lbs)
Greater Hartford Tournament Results
Team results – 1. Southington 228, 2. Conard 120, 3. Simsbury 116½, 4. Wethersfield 109, 5. Bristol Eastern 106, 6. South Windsor 94, 7. New Britain 76, 8. Hartford Public 71, 9. Manchester 64½, 10. Hartford Classical 61, 11. East Hartford 55, 12. Hall 51, 12. Plainville 48, 13. Weaver 25, 14. Windsor 24, 15. Granby 22, 16. Cheney Tech 19, 17. N.W. Catholic 6, 18. Bulkeley 0
Individual results
103- Doug Fontaine (Southington), Simpson (Conard), Velez (Wethersfield)
112- Cunningham (South Windsor), Solano (Conard), Mazzarella (Wethersfield)
119- Jeff Solomon (Southington), Perez (Wethersfield), Appamah (Hall)
125- Gialluca (New Britain), Figueroa (Hartford Public), Valenti (Wethersfield)
130- Krisatis (Manchester) Sargenti (South Windsor), Kallbacher (Conard)
135- Steve Brant (Simsbury), Pillai (Windsor), Tyler Ritchie (Southington)
140- Jordan Jaquo (New Britain), Tenan (Bristol Eastern), Monson (Southington)
145- Trevor Ritchie (Southington), Todd Krolikowski (Bristol Eastern), Yousef (Hartford Public)
152- Gabrielle (Conard), Randy Mintz (Simsbury), Dimitri Orlando (Bristol Eastern)
160- Mario Acca (Plainville), Santana (Conard), Joe Dupuis (Southington)
171- Dark (Manchester), Alex Uliasz (Southington), C.J. Chaika (Bristol Eastern)
189- Joe Colella (New Britain), Dan Howley (Southington), Lawton Arnold (Simsbury)
215- Marcus Furze (Simsbury), Chris Vose (Southington), Williams (Cheney Tech)
285- Spencer Charrette (Southington), Stanley (Weaver), Crawford (Classical)
Most Outstanding Wrestler- Jordan Jaquo, New Britain (140)
Most Falls Fastest Time – Crawford,Classical Magnet
1-10-07
Results:
Wethersfield 49 Simsbury 25
1-6-2007
WHS wrestlers took 5th place in the Maloney Invitational Tournament, which was held at Maloney High School on Saturday.
Kyle Mahder took home the Gold at 189 lbs.
Ken Velez (103) and Diego Perez (119) placed 2nd.
Paul Mazzarella (112) and John Fields (135) placed 4th.
Team results – 1. Platt High 206, 2. Fairfield Warde 156, 3. Maloney 140, 4. Guilford 134½, 5. Wethersfield 131, 6. Stratford 127½, 7. East Haven 108½, 8. Brien McMahon 101, 9. Vinal Tech 80, 10. Wilton 68, 11. Rockville 56, 12. Weston 48, 13. Notre Dame-Fairfield 6
Championship finals
103 West Johnson (Platt) pin Ken Velez (Wethersfield)
112 Anthony Ricco (Stratford) maj. dec Vinny Staffa (East Haven), 11-2
119 Curtis Watkins (Fair. Warde) dec. Diego Perez (Wethersfield), 8-3
125 Jesse Inman (Stratford) pin Jake Beckerman (Wilton)
130 Anthony Gonzalez (Platt) pin Tom Levene (Weston)
135 Ralph Riello (Platt) dec John Abbey (Fair. Warde), 4-2
140 Steve Flathers (Stratford) pin DJ Riberio (Platt)
145 Pete Camacho (McMahon) dec Kyle Lundberg (Guilford), 10-8, OT
152 Scott Spezzano (McMahon) dec. Ryan Sullivan(Platt), 8-2
160 Silas Shelley (Fair. Warde) pin Nick Abrams (Maloney)
171 Brandon Sundwall (Guilford) dec. Mike Marcovici (Rockville), 4-3
189 Kyle Mahder (Wethersfield) pin Jeff Hallas (Wilton)
215 Dan Lamberton (Guilford) dec.Steven Figueroa (Stratford), 2-1
285 Edwin Agoston (McMahon) pin Kevin Potter (Platt)
12-30-2006
Results of the tri-meet held at Hall High School:
Wethersfield 54 Hall 12
Glastonbury 46 Wethersfield 30
12-27-2006
Results of the Quad meet held at South Windsor are as follows:
Wethersfield 48 Suffield 20
Wethersfield 39 South Windsor 40
Wethersfield 73 East Catholic 12
12-23-2006
Wethersfield wrestlers dominated the Kisluk Invitational Tournament at Rocky Hill, taking 1st place over Shelton. WHS finished up the day with a total of nine wrestlers in the finals, five bring home gold.
1st Place
Ken Velez
Paul Mazzarella
Diego Perez
Jovani Valentinni
Kyle Mahder
2nd Place
Rene Rivera
Dan Hoskins
3rd Place
John Fields
Dariel Gonzales

Team results – 1. Wethersfield 231½, 2. Shelton 156, 3. Immaculate 134, 4. Hall-West Hartford 126, 5. Housatonic 112½, 6. Greater Hartford Classical 110½, 7. Portland 101, 8. Fairfield Prep 100, 9. East Windsor 98½, 10. Windham Tech 94, 11. Plainville 72, 12. Rocky Hill 53, 13. Stafford 51, 14. Pomfret 28, 15. Northwestern Regional 15, 16. Cromwell 5

Individual results

103: Championship: Valez, Wethersfield pin Parrillo, Wind Tech, 2:14; Third – Danaher, Hall, pin Harper, Plainville, 1:56

112: Championship: Mazzarella, Wethersfield dec. Miller, Stafford, 5-4; Third – Robby Ferrante, Shelton pin Arel, Housatonic, 1:56

119: Championship: Perez, Wethersfield dec. Earst, East Windsor, 4-0; Third – Lee, Fairfield Prep pin Tim Ehalt, Shelton

125: Championship: Valantini, Wethersfield pin Miller, East Windsor, 1:24; Third – Curtis, Immaculate pin Bushby, Fairfield Prep, 1:25

130: Championship: LaBeef, Pomfret pin Rivera, Wethersfield, 3:30; Third – Hidalgo, Hall pin Fitzgerald, Immaculate

135: Championship: Gonsalves, Windham Tech pin James Dimeo, Shelton, 4:42; Third (tie) – Fields, Wethersfield and Brignole, Northwestern

140: Championship: Christie, Immaculate dec. Arango, Classical, 5-1; Third – Stroud, Portland dec. Scalise, Hall, 6-2

145: Championship: Magnoli, Rocky Hill pin Dionne, Portland, 4:28; Third – Lasko, Housatonic dec. Larkin, East Windsor, 16-8

152: Championship: Cobuzzi,Plainville pin Schwartz,Housatonic, 2:34; Third -- Scheer,Portland pin Secola,Immaculate, 1:59

160: Championship: Brazee,Housatonic, dec. Satalino,Plainville, 15-7; Third – (tie) Sadowski,Shelton and Patto,Portland

171: Championship: Parlos,East Windsor dec. Sparks,Plainville, 11-2; Third -- Visconti,Housatonic dec. Gonzales,Wethersfield, 17-7

189: Championship: Mahder,Wethersfield pin Dell'Accio,Hall, 5:24; Third -- Anthony Abraham,Shelton

215: Championship: Lane,Fairfield pin Depeau,Stafford, 1:26; Third -- Gionfrido, Hall pin Moon Classical, 1:50

285 Championship: Crawford,Classical pin Hoskine,Wethersfield; Third -- Rich Wigglesworth, Shelton pin Fortuna,Hall, 1:31


12-16-06
Wethersfield will compete in the Farmington Invitational Tournament on Saturday December 16th. Each Wrestler may have up to 5 matches throughout the day. Wrestling is scheduled to start at 9:30 AM. WHS will face some strong competition as the season begins to intensify. Some of the teams competing will be: Farmington, Hall, Platt, Cheney Tech, & Foran
12-13-06
The Eagle Wrestlers kicked off the season with a double win over Cheney Tech ( 78-6 ) and Enfield ( 66-16 ) on Wednesday night at Cheney Tech. Both Cheney Tech and Enfield were unable to fill all weight classes, resulting in several uncontested wins. Eleven WHS wrestlers posted double wins, many of which were by 1st period pins:
Ken Velez - 103 Lbs.
Paul Mazzarella - 112 Lbs.
Diego Perez - 125 Lbs.
Jovanni Valentini - 130 Lbs.
Jon Fields - 135 Lbs.
Paul Signorello - 140 Lbs.
David Suberth - 145 Lbs.
Rob Durgin - 160 Lbs.
Dariel Gonzales - 171 Lbs.
Kyle Mahder - 189 Lbs.
Dan Hoskins - 285 Lbs.
12-10-06
This years team will be under the direction of Head Coach Ken Staten. Coach Staten will be assisted by Richard Scoppetto, former WHS Wrestling coach from 1974 through 1983.
Team Captains are Seniors:
Klye Mahder, Paul Mazzarella, Jovanni Valentini, Ken Velez
The season opens December 13th against Enfield and Cheney Tech .
Wrestling starts at 6:00 PM at Cheney Tech.