2005-2006 Season
Head Coach: Al Paulekas
Assistant Coach: Ken Staten
Assistant Coach: Mark Lawrence
Dual Meet Record: 15 - 7

Team Members
Front ( left to right) Mafucci, Harlow, Ortiz, Montano, Lungarini, Perez, Mazzarella - Captain, Rivera, Sullivan Middle Row: Daigle, Gonzales, Valentini - Captain, Phelan, Durgin, Cruz, Schuberth, Fields, Velez - Captain, Wells, Nalette, Stefak, Back Row: Coach Staten, Coach Lawrence, Hoskins, Payer, Santana, Querios, Victoriano, Coleman, Wright, Pagliarello, Todaro, Peterson, Mahder, Cordoso- Sr. Captain, Head Coach Paulekas
Coach Paulekas Retires
My four years as your wrestling coach have really flown by. It seems like just yesterday that I sat in Jay Cottone's office for the first time wondering what I had gotten myself into. Things had changed radically since my last coaching assignment. Somehow, we persevered. I must say that it has been a rewarding experience for me and I thank you for the privilege of being a part of the rebirth of wrestling at Wethersfield High School.
The season before I took over ended with only six boys on the team. The uniforms were deplorable, the warm ups were in tatters and the mats were old and dirty. The then Booster Club had only $450.00 in its treasury. And the interest in and prestige of wrestling in Wethersfield were at an all time low. A sad state of affairs, to say the least. But on the positive, we had nowhere to go but up.
The rest is history; we finished last season with 40 high school wrestlers and our Youth Program, (the Red Eagles), numbers 35 after only three years in existence. These numbers will continue to grow. We now have new uniforms, warm ups and a new mat, the first in over 20 years.
This past season our varsity team finished 15 and 7 in dual meets and won three team trophies in tournament competition. The team accumulated 30 individual medals along the way. Four wrestlers made the CCC West Conference team, three placed in the State "L" Championships and two have been designated Academic All State. Wrestling is back in Wethersfield.
None of this could have happened without the enthusiastic support of our parents and the loyal support of individuals and businesses from the community. You are to be congratulated.
Ken Staten will take over the reins next season. I am confident he will take our program to even greater heights and accomplishments. Give him the loyalty and support that you afforded me and it Will happen!
Respectfully,
Al Paulekas
Eagles Place Three In State Class L Tournament
Jareth Cardoso - 160 lbs. 2nd Place
Paul Mazzarella - 112 lbs. 5th Place
Kyle Mahder - 189 lbs. 5th Place
Eagles Take 2nd Place
at Portland Duals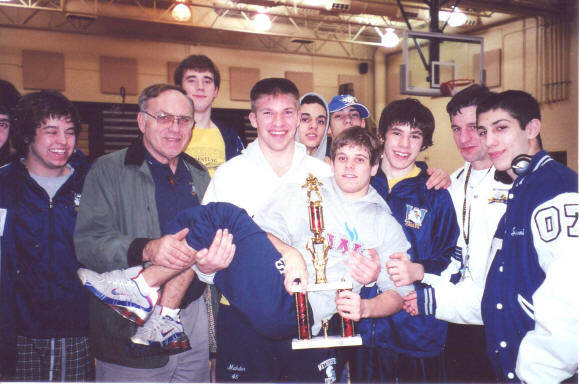 The Eagles came out ahead of eight out of the nine teams entered to take home the second place trophy at the Portland Duals. The first round of wrestling proved to be the most exciting of the day with Wethersfield coming from behind 3-31 to beat Nonnewaug 39-36. The tremendous effort seemed to sap the teams strength as they followed up with a 46-24 loss to Bacon Academy. The remainder of the day's matches ended up on the plus side with the Eagle defeating Gilbert 58-8 and East Lyme 57-21
Wethersfield Hosts First
Charter Oak Duals Tournament
January 21st, 2006
Conard - 1st Place
Farmington - 2nd Place
Wethersfield - 3rd Place
Wrestlers Medal at Nutmeg Games
Six Wethersfield wrestlers participated in the Nutmeg Games, held this year at the University of Bridgeport on August 7th. It was Wethersfield's first entry at the games and when the tournament ended our boys came away with plenty of experience as well as two gold, one bronze, and a fourth place win.
Ken Velez won a Gold Medal in the 112 pound Scholastic Class.
Dan Pagliarello won a Gold Medal in the 153 pound Intermediate Class.
Jareth Cardoso won a Bronze Medal in the 160 pound Class.
Kyle Mahder was 2 and 4 for the day which earned him a 4th place award.
Coach Paulekas commented: "I could not have been more pleased with the performance of our boys. We will continue to use the Nutmeg games as our summer activity. Our wrestlers at all levels gained valuable competitive experience"