2004-2005 Season
Head Coach: Al Paulekas
Assistant Coach: Ken Staten
Captains: Jareth Cardoso, Ron Casasanta, Matt Skehan
Dual Meet Record: 8 - 13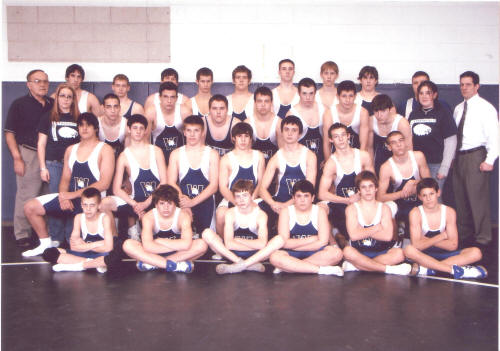 Row One: Lee Mumford, Dion Maffucci, Ian Wells, Sal Indomenico, Paul Mazzarella, Jonathan Fields Row Two: Brian Lalama, Mark Todaro, Kyle Mahder, Dave Schuberth, Mike Antionetti, Travis Cousineau, Dan Palazzolo Row Three: Manager Jess Krystopa, Jareth Cardoso, Ron Casasanta, Mike Gwara, Dave Nalette, Tyler Falk, Brian Lungarini, Dan Ramirez, Manager Laura Valvo Row Four: Head Coach Al Paulekas, Matt Zawadski, Matt Skehan, Adam Cattel, Eric Peterson, Ryan Burke, Dan Pagliarello, Chris Wright, Dan Hoskins, Jay Gherard, Assistant Coach Ken Staten Missing from Photo: Rick Daigle, Jovanni Valentini, Ken Velez
2004 -2005 Coach's Report
On February 2nd, 2005 the season ended with a Team Banquet held at the Gallery Restaurant in Glastonbury. This year 120 people attended, and included High School Team Members, Red Eagle Wrestlers, Parents, Coaches, and Managers.
Head Coach Al Paulekas presented the following report on the seasons accomplishments:
VARSITY
Most people judge the success or failure of a team's season solely by its win / loss record. I do not. Last years 2003-2004 season ended with a 14/15 record, while 2004-2005 finished with an 8/12 record. A step backwards? Certainly not.
WHS won its first team trophy since 1977.

Our boys won 18 individual medals in three tournaments.

We wrestled a much tougher schedule.

We had 12 freshmen come out for the team.

We had all weight classes covered; no more forfeits.

There were 5 wrestlers my first year; next season we return with 29.
Three years ago, I personally committed four years to rebuilding the wrestling program at WHS. The team and coaches set goals of winning the CCC West conference, to being in the top quadrant in the state, and having multiple place winners in the states. As I approach my last year as your coach, I can see all of this in the offing. For next season we have 29 returning varsity wrestlers plus a contingent from the Red Eagles youth program. Our Red Eagle program continues to grow and will consistently produce 4 - 6 experienced wrestlers each year. This is the foundation for success.
To a man our boys are enthusiastic about self improvement. For the first time I see avid interest in all forms of off season training. They will compete, attend camps, and train this spring, summer, and fall. I think they are beginning to realize the price of success and are willing to pay it.
Coach Ken and I will make this all readily available to everyone. When we open next season you will be able to differentiate between "those that did and those that didn't".
RED EAGLES
Coaches Mowel, Garrey, MacDunnuh, and Lombardo did a great job with our fledglings. They were always there for our kids at practice and the many tournaments they attuned. I saw enough Sunday meets to observe some coaches yelling at and putting undue pressure on their kids. Our coaches never did this; rather they were always encouraging, positive and supportive. This is our Red Eagle coaching philosophy. Our kids will learn to wrestle hard and tough, yet know how to win or lose gracefully. And they will love it because they are truly having fun.
As I sat at our banquet and watched them get their awards and patches, from little Benjamin to Dariel, I could see a bright future for wrestling in our town.
ALUMNI ACTIVITIES
Tom Mazzarella is diligently compiling a list of past WHS wrestlers. He reports a positive response from all to becoming more active in support of our teams. If all goes as planned, we will designate one home meet as "WHS Wrestling Homecoming Night" where we may acknowledge those who make up our heritage.
FUND RAISING
We had another successful year as evidenced by our financial report. I have devoted much time and effort to that end, to prove that it can be done. But now, it is time for you to step forward and build on what I have started. If enough people will take on just part of the program, it will grow and be sustained. As the off season progresses, you will hear more on the subject from Bill Mumford. Please be receptive when he calls.
Budgetary restraints have severely cut athletic funding in recent years. This is why I have been so adamant about doing it for ourselves, and you can see the results. We must continue to build on this beginning.
OFF SEASON ACTIVITIES
Coach Ken has initiated our Free Style Club this spring. There are scheduled practices to learn and prepare for tournaments the club will compete in. He is also coordinating camp activities for all interested. Please encourage your sons to partake. ( If you have any questions please e-mail us at wrestling@snet.net )
CONCLUSION
As I promised, wrestling is back in Wethersfield! Over 50 kids participated this past season, up from just 7 in the 2002-2003 season. There are 120 people at our banquet. This is no accident. It is the result of a lot of time and effort being devoted by a lot of people. And what I consider most important, the support of our parents.
And who is the winner? Our kids..........it doesn't get any better that that.
Coach Al Paulekas