1976-1977 Season
Head Coach: Peter Thompson
Assistant Coach: Richard Scopetto
Dual Meet Record: 13 - 6 - 1
Captains: Jay Damato, Joe Garcia, Keith Saunders, Jay Whalen
Season Highlights: The 1977 Team earned the CIAC Class L State Championship Title - A first for the WHS program
Jay Damato had an undefeated Dual Meet record of 20 - 0
Five wrestlers placed at the State Tournament:
Jay Damato - 1st Place
John Poulos - 1st Place
Phil Carpino - 3rd Place
Keith Saunders - 3rd Place
Jay Whalen - 3rd Place
1977 Wrestling Team Inducted to Hall of Fame
On November 7th 2004 Coach Peter Thompson's 1977 Wrestling Team was inducted into the Wethersfield Alumni Athletic Hall of Fame. The team compiled the programs best ever season dual meet record of 13-1-6 and went on to capture the CIAC Class L State Title.
This was the first State Wrestling Championship in WHS history. The 1977 team members are:
Jay Damato, Keith Saunders, Joe Garcia, John Poulos, Chris Stevens, Phil Carpino, Jim Campanello, Chris Lyons, Myron Dytiuk, Peter Godson, Chuck Hamel, Joe Inturri, Lyle O'Connor, and Dave Molchan, Head Coach Peter Thomspon and Assistant Coach Richard Scopetto.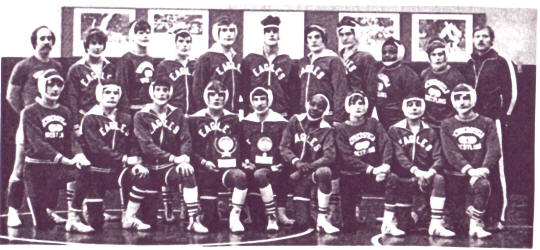 Row One: Lyle Connor, Keith Saunders, Joe Inturi, Jay Damato, Joe Garcia, Ben Crump, Phil Carpino, Myron Dytiuk Row Two: Assitant Coach Richard Scopetto, Jim Campanella, Pete Godston, Chris Lyons, John Whalen, John Poulos, Chuck Hamel, Cris Stevens, John Page Dave Molchan, Coach Peter Thompson